28 April 2021
Chomp While You Stomp in Brick Lane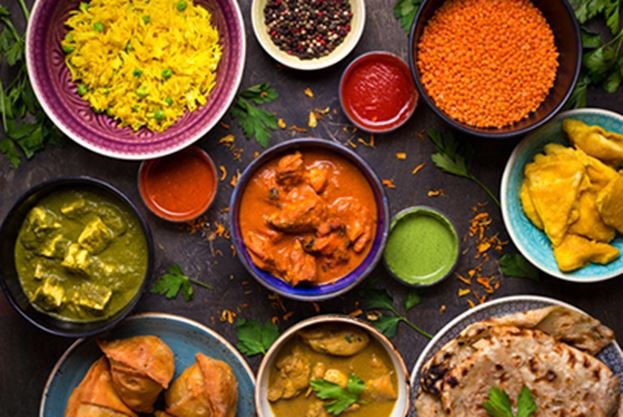 To many, Brick Lane equals proper nosh. To me, the name conjures up treasured culinary memories. Some of my happiest moments have been spent at the renowned Beigel Bake, tucking into a traditional Jewish beigel loaded with hot salt beef and oozing mustard, or at Monsoon, savouring the Bangladeshi taste explosion that is Chicken Rezala (more on this later!)
Introduced to this area by Bengali immigrants wishing to provide food for their community, 'curry' – an Anglicised term for the cuisine of South Asia – swiftly won the hearts of the majority of the local population in Shoreditch. Now people come from far and wide to feast at one of the celebrated restaurants on Brick Lane. Below are some of the favourites.
Brick Lane Brasserie makes a wonderful grilled tandoori fish. Try it with their light fluffy bread as an accompaniment.
For authentic Bangladeshi dishes, head to Standard Balti House where the Lamb Lemongrass and Mater Panneer (a type of fried cheese) are bursting with flavour.
If you like dining in a stylish space with contemporary design, you must book a table at Meraz. Looking like a new-wave South Asian restaurant for the 21st century, it was surprisingly founded in 1974 and is truly a Brick Lane Giant, with a menu of tantalising regional dishes. Monsoon is the King. This lofty four-floored restaurant, popular since its beginning in 2001 has an impressive menu organised according to Indian and Bangladeshi specialities.
So what is the difference between Bangladeshi and Indian cooking? Bangladeshi cooking tends to include bread made from white, as opposed to whole, wheat. A signature staple is Luchi, a deep-fried flatbread. Bangladeshi specialities often involve lake and river fish, in particular Halsi – a small fish similar to the mackerel which is delicious when fried in mustard oil. The unique taste of grub from the region comes from the 'panch phorom' – meaning 'five spice'- which comprises cumin, fenugreek, fennel, black mustard seeds and nigella. Perhaps the most mouthwatering dish of all is the Rezala: a spicy curry with chicken, beef or lamb, which has been marinated in yoghurt until tender.
Full of character are the stars of Bangladeshi street food: Mughlai paratha and Phuchka (or puska). The paratha is a type of bread, which in this case has a spiced omelet-like filling and is rolled, fried and sliced. Phuchka is nothing less than a work of art, achieved only by the most painstaking of chefs. Spiced mashed potatoes, peas, onion, cloves, coriander, mint and a tangy tamarind-flavoured water are only some of the surprises contained inside this crispy deep-fried little round flatbread (or 'puri').
So, all you curry-lovers, follow the reddish-brown brick road for a taste of heaven!
Related Blogs