4 August 2021
A Feast For The Senses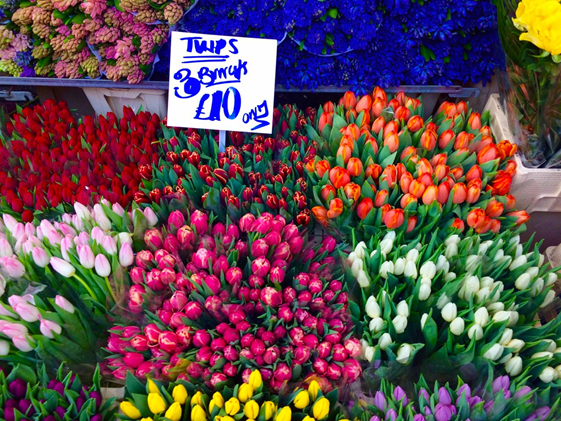 A day out in Shoreditch is always a treat for the senses. Especially if you are wandering around the Brick Lane Gallery and the Columbia Road Flower Market.
Visually stunning creations can be admired at the Brick Lane Gallery (216 Brick Lane, E1 6SA). An eclectic mix of striking contemporary pieces and thought-provoking street art from emerging and established artists are waiting to be discovered here. Breathtaking are the colour schemes used in graphic designer Elisabeth Vieten's portraits of horses. Her work is not only exquisite equine portraiture, but it also challenges our perceptions. Vieten plays with her palette and thus makes a statement about diversity in nature. Her horses all have C-Kit-Locus – a genetic mutation which means that their hair has a combination of natural hues and patches of monochrome. Or as Vieten herself calls it: 'a sporadic non-occurrence of melanocytes'!
Bexy's abstract photographic art is another highlight of the gallery. His opulent tones and bold images convey his interpretation of existence, or rather our thoughts about existence. The pieces are the result of Bexy's own journey overcoming mental anguish. Irresistibly whimsical, they represent the duality of fantasy and reality in the human mind.
Don't miss Photography Now, an exhibition at Brick Lane Gallery from 3rd  to 6th August, and featuring brilliant works by Anna Papadopolou and Jerry Webb. Also worth checking out is Art in Mind from 5th to 15th August.
On Sundays from 8am to 3pm, you can delight all five of your senses at Columbia Road Flower Market (E2 7RG). The origins of the market can be traced back to the arrival of Huguenot (Calvinist Protestant) immigrants who fled from France after 1685, when they suffered persecution under Louis XIV. They shared a love of cut flowers, together with a fascination for caged songbirds. (The pub at the end of the market is called the Birdcage!) Gorgeous sights and scents from the flowers pervade the area, alongside wonderful aromas from the food on offer, which is certain to excite your tastebuds. This is a flower-lover's heaven and it is set against the picturesque backdrop of Victorian buildings. Arrive early before it gets rammed with visitors admiring the abundancy of flowers, houseplants, bulbs, herbs and shrubs from around the world. If, however, you are stuck in the queue, the Birdcage Pub provides takeaway pints for anyone waiting to get in. Alternatively, pick up a sweet treat from the Pavillion Bakery to munch on while you wait – their cinnamon buns are to die for. Soak up the electric atmosphere as you hear the barrow boys chanting, "Everythin' a fiver!" Feel the texture of leaf and bark as you meander through the stalls, which sell everything from bedding plants to ten-foot banana trees!
Delve beyond this oasis of foliage and flowers to discover a plethora of independent shops, cafes, restaurants, delis and small galleries. Hugely popular is Laxeiro, a vibrant tapas joint with tables that spill out onto the street – great for people-watching! It's also worth sampling some of the cheeses for sale in the market, as well as browsing around the shops which contain Buddhist artefacts.
Arguably, the best time to come is between 2pm and 3pm, when the traders will reduce the prices to shift their remaining stock. Then you can drift home serenely, part of the tide of satisfied bouquet-clutching punters, imagining your newly adorned floral abode.
So there we have it – galleries and garlands in Shoreditch. Happy days!
Related Blogs