14 July 2021
Dragged Up In Shoreditch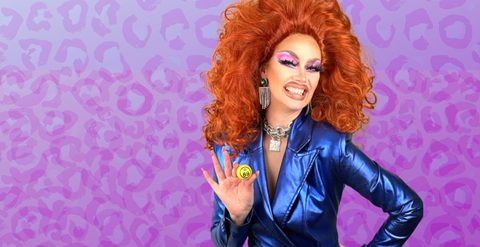 A craze is pulsating through the party kingdom that is Shoreditch. I like to call it 'Post-Pandemic Drag'. Revellers of all genders, ages, persuasions and backgrounds are flocking to the new hilarious and outrageous drag nights in this jewel of the East End.
'Not Another Drag Brunch'@The Book Club (100-106 Leonard Street, EC2A 4RH) welcomes you each Saturday in July from 11.30am-4pm.The newly decorated bar will host this event, which brandishes the slogan "F*** the establishment!" If you come dressed to kill, you will be allowed entry. Once there, you can enjoy plenty of raucous entertainment, and a live DJ playing Pop and R'n B. Plus there's the added perk of bottomless prosecco and all the pizza you can eat!
Fabulous in tight blue PVC, her opulent coiffed red mane brilliantly offsetting her striking violet eyeshadow, Lady Ginger is the perfect figurehead for a new drag night at the Looking Glass Cocktail Club (49, Hackney Rd, E2 7NX). Ginger's Big Drag Bingo is happening every Friday in July. The promo poster promises all sorts of fun, from "show-stopping lip syncs to sassy dance offs and a whole load of balls!" The plastic numbered kind of ball, you understand. What's there not to like? Tickets are selling out fast. Partygoers are frequently mesmerised by Lady G's quick wit and the daring banter she has with the crowd. Throw in copious party anthems and glitzy performances, and Big Drag Bingo is much more than a camp games night. The clever Ginger has expanded her empire by customising and hosting private events for birthday parties, hen do's or office knees-ups. Email info@partywithginger.com.
An Alice in Wonderland-inspired venue, The Looking Glass is perfect for its other very different drag event, "House of Rouge". Like Alice, visitors go through the ominous looking glass to enter a quirky and surreal secret room. Taking place on 14th and 15th July and 19th August at 7pm, this is an intriguing immersive show, jam-packed with acts from a new generation of cabaret stars. Comprising drag, burlesque, comedy and some deliciously alternative performances that are impossible to pigeonhole, the show is ablaze with jaw-dropping routines and decadent debauchery. Highlights include the anarchic burlesque of the trio Ménage à Rouge, and the stunning gender fluidity of Sebastian Angelique. Sebastian is a vision in taffeta and chiffon, sporting a blond crop, Mary-Jane high heels and a glitter-laden corset! The Queen of queens has got to be Shakona Fire. With the fierce sassiness and killer curves of Beyoncé, this dancer and artist, who grew up on a North London council estate, humorously tackles the topics of body image and racism. Resplendent with his scarlet lips and nipple tassels, Shakona illuminates the stage.
Not to be missed also is "Kiki: A Drag Cabaret" at Kachette (347 Old Street, EC1V 9LP) on Saturdays at 8pm. At Kiki, revellers are transfixed by ten fabulously crazy and epic performances.
So there we have it: Shoreditch's latest amazing additions to its already glittering nightlife.
Related Blogs