16 March 2022
Mime, Migration and Morality at Shoreditch Town Hall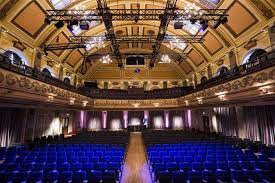 Shoreditch Town Hall (380 Old St, London EC1V 9LT) has an impressive schedule of events, performances and classes this Spring.
Well worth attending are the monthly acting classes with Theatre Re. Inspired by the approach of Etienne Decroux's Corporeal Mime, they combine fun games, ensemble work, technique and improvisation. Sessions cost £40 and take place from 10am-3pm every Sunday, until July.
Telethon is surrounded by much hype. It is a show within a show, and a darkly humorous take on public morality. Jennifer is the host of a Comic Relief-style TV show. If you come to see her show, you will join the pretend studio audience of the imaginary telethon, and witness a thrilling and catastrophic turn of events spurred on by the divisive tendencies of the public. Plenty of audience interaction makes it an electrifying night. The performance involves new approaches and technology to make it inclusive for all. There is integrated captioning and moments of British Sign Language interpretation. Particularly good is the creative captioning, which is part of the video design. In creative captioning, performers are acting in character and using BSL at the same time. You can see Telethon from now until the 14th April at 7.30pm, and tickets cost £15.There is also the opportunity to be a virtual participant on 6th and 7th April, by joining the livestream.
New Earth Theatre brings Tsunagu/Connect Live to the Town Hall from 23rd –30th April. It's a kaleidoscopic view of the voyages and many stages in the lives of migrants who come to settle in London's East End. Following four Japanese women in different periods and settings, Tsunagu is a promenade performance piece – meaning that the audience physically moves around as the story unfolds in different parts of the space. The promotional poster displays the caption: "No one knows how many Japanese women live in the UK…No one knows their varied loves or hates, their achievements or mistakes, their opinions and contradictions…So we asked them." It's an irresistible experience. The show invites you to immerse yourself in Showa Era Japan here, the bedsits of '90's London there, and to witness the Empire Windrush's final voyage. Tickets cost £16 and Tsunagu/Connect Live is an absolute must-see.
Not only is Shoreditch Town Hall at the forefront of culture, the arts and entertainment, but it is a glorious feat of progressive Victorian architecture and it is steeped in British political history. I'll see you there!
Related Blogs