1 February 2022
Shoreditch Stereotypes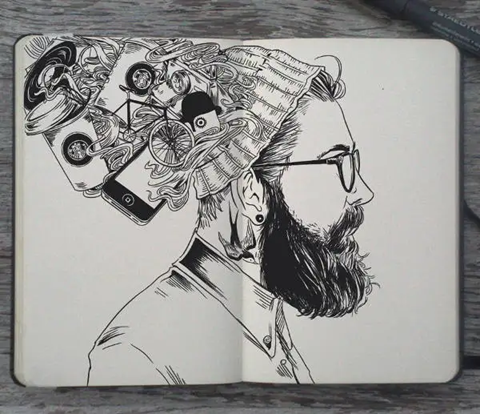 Walking around Shoreditch, you will encounter many wonderfully quirky characters. Here are some Shoreditch character portraits. We may poke fun and exaggerate their flaws and attributes, but we are only gently teasing. We love them really!
The Hipster
Guzzling a soya latte in the mornings and craft beer in the evenings, with a beard that is somehow both bushy and groomed, he peers at you through his designer spectacles with a mildly amused expression. A self-proclaimed vegan (with a secret penchant for burrata!) he loiters by the window of a vintage clothes shop, reading a second-hand copy of Jean Paul Sartre, whilst pondering the human condition. He is environmentally conscious and edgy in all the right places!
The Banker
Frequenting Shoreditch House, this pretentious and ruthless go-getter has a cocaine-fuelled aptitude for making money. Self-motivated and self-made, the banker knows that it pays to be entirely selfish! With a twinkle in his eyes and a sharp suit, he is highly seductive and incredibly dangerous!
The Fashionista
Not afraid to mix velvet with feathers, or to wrap her pink hair in a purple leather turban, the fashionista is unashamedly 'out there'. She loves swishing her bright green coat, which she wears over her orange jumper, as she dissects her outfit for a vlogger on Shoreditch High Street. "My skirt is vintage Cavalli, and this top is literally from Zara," she garbles. Nothing much troubles her, other than whether to wear her white rubber boots or Doc Martens to the thrift store. Her boyfriend is sporting a vintage 1950's baseball jacket and Prada "skeps" (trainers, to you!) as he pouts and strides along Brick Lane to meet her.
The Techie
Existing solely on powdered protein to fuel his coding sessions, this IT genius has a computational approach to his entire life. He tracks steps, calories and heartbeats as he shows off his esoteric knowledge of obscure coding. Part of the gentrification wave, his favourite hobby is collecting modernist Scandinavian furniture!
Let's not forget, though, it's the diversity and quirkiness of these types of people that help to create the amazing vibrancy in Shoreditch.
Related Blogs