4 August 2021
Stand Up, Shoreditch!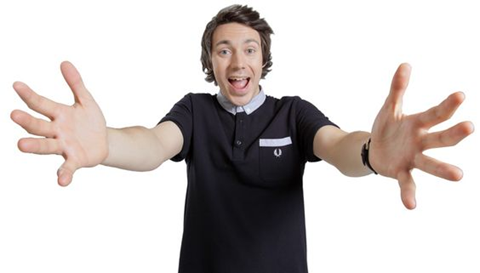 There's no shortage of top-notch comedy clubs to visit in London this Summer. In fact, both royalty and fresh blood in the realm of stand-up have descended upon Shoreditch, the cultural heart of the East End.
A trailblazer in this field is the City Comedy Club at the Trapeze Bar (89 Great Eastern Street, EC2A 3HX). There you can sip on a drink and chuckle away at the many impressive acts. The celebrity mystery guests are a clever element of the club nights. Many are comedy geniuses who have appeared on TV shows such as Live at the Apollo, Mock the Week and Russell Howard's Good News.
Aside from household names, there is a host of talented comedians at City Comedy Club who are making, or are about to make, serious waves. Faye Treacy's career has rocketed since she was voted 'Best Newcomer' at the Musical Comedy Awards and she recently received rave reviews at the Edinburgh Fringe with her tongue-in-cheek show 'The Problem with Faye Treacy'. Her irreverent style makes for a thoroughly entertaining show – no surprise then that once upon a time she was kicked out of her convent school for putting it on eBay!
Red-hot barbs also come from the Romanian comedian Radu Isac. A venerated veteran of the circuit, his stand-up has been praised in The Scotsman, where it was described as 'intelligently subversive.' Often popping up at the club, Kevin O'Connell wows the audience with his high energy, quirky act. Hot Press aptly portrays him as happily taking things 'down a surreal rabbit hole.'
Backyard Comedy Club (231 Cambridge Heath Road, E2 OEL) is a vibrant hub on the East End comedy circuit. Before we even talk about the funny people, we need to talk about the venue itself. Purpose-built and state-of-the-art are phrases which are frankly beneath it. Almost palpable is the joy experienced by the men and women who perform there. Fully air conditioned, wheelchair accessible and blessed with the most amazing acoustics, it is the place to go for comedy this Summer. Highly recommended is Backyard's upcoming event on Friday 20th August, when five illustrious comedians will grace the stage. Tom Deacon is one of this select few. He never fails to entertain with his observational and often side-splitting routine focusing on aspects of daily life. 'With looks, confidence, charm and great material; expect other comics to lynch him!' remarks the Sunday Times.
Impressive too is the collection of comedians you'll find at the Comedy Cabin (132 Kingsland Rd, E2 8DP). The venue has a group of inspired resident MC's. Toussaint Douglass is an industry favourite. His political and personal comedy leaves a lasting impression on audiences because of its deliciously absurdist slant. Katharyn Henson achieved excellent critical reviews at the Fringe with her show 'Ew, Girl, You Nasty.' Award-winning US comedian Brandon Burke is electric on stage. His act is as compelling as his bio: 'A good ol' country boy with a dash of red-neck and a small helping of queer.' With as much free popcorn as you can stomach, this is the perfect place to kick back and have a laugh with your mates or colleagues after a hard day's work.
And so folks, on we go to the punchline: You'll find Shoreditch on the Laughter Line! (Ok I know, I know, that one may need sharpening…)
Related Blogs