1 February 2022
The Word On The Street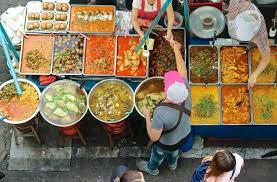 Nothing is better than sashaying down Brick Lane or parading through Spitalfields, whilst scoffing a delightful snack which you have just bought from one of the many small traders in the area. These talented street chefs create mouth-watering dishes within converted shipping containers and colourfully decorated trucks, or on market stalls, filling the air with aromas that tickle the taste buds. If you close your eyes and sniff, you can almost imagine you are in Vietnam…or is it China…or Jamaica?! It's an amazing experience as so many countries' cuisines compete for your nostrils!
Boxpark, a vibrant shipping container complex, is a favourite destination for street foodies. Highlights there are Mao Chow (Chinese vegan grub – how very 2022!) and Rudie's Jerk Shack, which offers delectable treats going by such humorous names as the Yardie Box and the Jerk It Up Box! Of course, a favourite is the jerk chicken but they make a mean curried goat as well.
Chatsworth Road Market, down the road from Shoreditch, is the place to be on a Sunday. Sample the street food at Paddy Field (sushi-style Japanese rice parcels) and sumptuous Scottish toasties at Deeney's.
Arguably, however, the best street food can be gobbled up at one of the impressive Shoreditch restaurants that are going strong in 2022. Dishoom's buzzy atmosphere and zingy Indian street food is irresistible. Diners can kick back in Bombay-style digs with vintage colonial décor and upscale colonial touches. Not to be missed is the fried batura bread with chickpeas, and the keema pau (minced, spiced lamb in a buttered bun). Street food, one must not forget, is just as much about drink as it is about food. Try the bottomless chai tea and the famous Bollybellini – a Bellini with an exciting twist!
Another culinary giant is Smoking Goat Shoreditch. This quirky eatery is inspired by Bangkok's late-night canteens, and launches a highly pleasurable 'assault on the senses.' Feast on the Loatian fried Pollock laab – an Eastern salad with an abundance of good quality, fresh winter herbs. The fish is poached in delicately balanced aromatic stock and is bursting with the gorgeous flavours of fresh citrus and chillies. The aubergine and tomato nam tok is just dreamy. Smoking Goat proudly states that their ingredients are sourced from environmentally conscious suppliers, such as @goodearthgrowers and @flourishproduce, which can't be a bad thing.
One thing's for sure, street food carries with it a sense of fun, which is much needed in the current climate. It also involves the younger generation of people in the country's food culture. And Shoreditch is undeniably the kingdom of street food!
Dishoom Shoreditch
7 Boundary Street,
EC2 7JE
Smoking Goat Shoreditch
64 Shoreditch High Street,
E1 6JJ
Related Blogs