16 February 2022
Evocative and Inclusive Art in the Heart of Shoreditch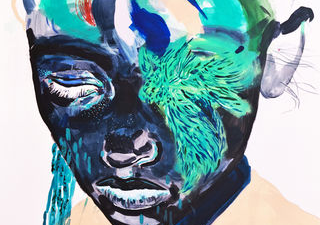 Fresh talent will be emerging from the Old Truman Brewery in The Other Art Fair from 17th-20th March. The fair is a beacon of anti-elitism, throwing off the fetters of convention and making art affordable to all.
The fair, on the popular Brick Lane, will showcase the work of 140 independent artists. Complete with immersive installations, performances, DJ's and a fully stocked bar, it is sure to attract people from far and wide.
Miguel Fonta's pieces are a must-see at the fair. The photographer has captured building fronts in all colours, styles, shapes and sizes across the world. Ridiculously pleasing to the eye are his tiny brown and sand-coloured bricks around imposing windows with billowing cornflower blue drapes in Amsterdam. The glorious green painted walls setting off the embellished gilded window frames make for a vivid picture, with the panes reflecting the city of Vienna outside.
Another talented artist is Marcelina Amelia. Uk-based, she uses mixed media approaches to print, painting and drawing. Her works allude to her Polish heritage, religious iconography, folk tales, the power of dreams and childhood memories. One of her most striking images is a woman, legs astride in flares and cowboy boots. Ears of corn are growing out of her boots and they compliment her bright textured mane of strawberry blond hair. Her cryptic gaze is eerily fixed on you. 'Isolation Mode' is a tender portrait of a melancholic woman, who cups her tilted head in her hand. She looks into the distance, 45-degrees from the centre point. The contours of her face are highlighted in bold red and shades of blue. One can sense the haunting thoughts that flicker across her eyes. How fitting for a post-lockdown age.
Last but not least, Alex McIntyre's paintings are amalgamations of journeys he himself has taken on foot, either running or walking. They upliftingly project vast expanses of light, sky, land and weather. He paints in subtle hues and his pieces have an ethereal quality. They are also an amazing study of the ever-changing shapes of clouds.
The Other Art Fair is sure to be the talk of Shoreditch this March.
The Old Truman Brewery
91 Brick Lane
E1 6QR
Related Blogs